– Best Laptop for Video Editing under $600 in 2018 –
This is a pretty straightforward question with a simple, yet maddening, response:
It depends.
First, on your level of expertise — experienced, novice, or total newbie.
Second, on your level of commitment — willingness to learn a new technology.And
Third, on your previous experience in video editing — if any.
I'll try to speak to each of these points while still answering the basic question regarding the all-critical price point.
NOTE: If you want some out-of-the-box thinking on what you should consider before making an informed choice, continue scrolling. However, if you just want our recommendations on the Top 5 laptops under $600, click here.
System requirements
So much of what makes video editing enjoyable depends on the tools and technology you need and use as a video editor day to day.
For example, I become apoplectic if my router, modem or laptop decide to take a break right in the middle of a big editing job.
It's also about having the proper internal horsepower for high-speed, high resolution video and graphics processing on a minute-by-minute basis.
That means you need to have, at minimum, a laptop that has the following specs (and I apologize in advance for the need to lapse into technospeak):
For Windows or Mac
Core i5 or i7 with 64bit processor — for needed speed
Minimum 8GB RAM — to drive resource-hungry video editing software
10GB available hard disk — 1 TB is better (for storing large video files)
1920 x 1080 display — to accommodate high-definition video
NVidia GeForce Graphics driver preferred — for the richest colors and sharpest details
More than this is necessary only if your video editing tasks call for extra speed in processing (rendering) and extremely fine detail in your video resolution (the so called ultimate in video — 4K resolution).
Beginners start here.
If you're a beginner, however, and just starting to stick your toe in the video editing waters, you might want to first explore the opportunities offered by one of the many online editing platforms that are springing up all over the Internet these days.
Here are three we can recommend. The first two links lead to brief, simple montages we produced entirely online at these sites, trying to demonstrate how easy and full-featured some of the templates are these days. (See the post about the Best Free Online Video Maker here.)
Here they are:
The show on Animoto is a true video production, created for an author to help promote his latest apocalyptic thriller. I'm pleased to say it was especially successful and racked up more than 5,300 views on YouTube in three days. Another video we produced completely online — also through Animoto — has now surpassed 43,000 views.
These productions demonstrate the communication value of video and — since they were done entirely online — demonstrate just how these anything-but-simple Internet software subscription services can deliver an impactful video — if the producer just uses some imagination and demonstrates some sense of production technique.
Here's the difference
The first two sites show what kind of capabilities a simple theme can do for a series of images — possibly to share with friends on Facebook.
The Animoto video, however, shows how even a simple template can deliver an impactful call to action — in this case, Buy the Book!
Sound exciting? Wait til you hear this.
All three shows were created by a new breed of Internet-powered laptop that costs just $200. And it defies many of the stringent hardware requirements I laid out earlier.
It doesn't need a terabyte of hard drive capacity or a minimum 8 megs of RAM, or an expensive graphics processor. It's been engineered for a new generation of users accustomed to harnessing a new and powerful force known simply as The Cloud.
In any event, here's the revolutionary Internet-based laptop that will allow you to create shows like these and store them in the Google Cloud — after, of course, sharing them with Facebook, Twitter and all your other social media connections.
Or, you could set up a website as I have, selling specially created videos to clients worldwide. All it takes is a fast Internet connection, a website, a PayPal account, a bit of production technique, and a little imagination. Here's a link to that site. (For those who want to also do videos for hire, I'll have  a special post on how to do that soon. Stay tuned.)
In the meantime:
Here's the 21st century Asus Chromebook.
---
Sure, it's got a trim profile and a small screen. But at only $200, you should get plenty of value for your investment as you edit videos online for fun and profit — and store your shows in the Cloud.
By making full use of this power-packed miniature online production studio, you can quickly and enjoyably:
Become a YouTube sensation
Or, you might become the next YouTube viral star, streaming video of yourself  as quickly and seamlessly as your web browser and Internet Service Provider will allow.
An Intel Celeron dual core processor, running at 1.6 GHz, will not buffer or stutter as real-time, full-motion video pours in from all over the web. The 4GB of RAM should also allow you to open email and perform simple word processing and other Google doc-related functions at the same time you are editing your latest YouTube channel program.
Specifically, you can open up your Google Chrome browser while your new bluetooth-enabled laptop streams the latest video content.  In addition. here are a few other featured specs:
11.6 inch LED-backlight HD widescreen display (1366 x 768), Intel HD Graphics 400

Intel Celeron

N3060

Dual-Core processor

1.6GHz, 4GB DDR3, 32GB eMMC — fast, flexible responsiveness on all things media-related.
Ports: 1x HDMI, 1 x USB 3.0, 1 x USB 2.0, 1 x Headphone/microphone combo jack,
Media Card Reader, Bluetooth 4.0, webcam, stereo speakers, wireless: 802.11ac
Google Chrome OS, 0.7″ Thin, Weight: 2.54 lbs,
Battery: Lithium-Ion — lasts 11 hours
Android enabled — download apps from Google Play
About the only thing this little ChromeBook doesn't have is a DVD burner/player. But in this digital age of streaming media and the ability to store huge amounts of video and audio data on a simple flash drive, who needs one?
It's not your father's PC, as they say. It's far better.
When not creating kick-butt videos, you can be streaming Hallmark movies via Hulu and first-run movies via Netflix — anywhere there's a WiFi connection — at home, at school, at the local coffee shop — even on an international flight, for heaven's sake, or a cross-country train ride.
Take it with you to the mall and tap your cellular unlimited data plan via a hotspot connection. Do the same thing on long, boring car trips. If you've got a Verizon unlimited plan, here's how.
Or, just play mindless MahJongg solitaire, as my wife does. She loves hers. She carries it with her everywhere — kitchen, laundry room — even the bathroom. Who needs Readers Digest anymore? You've got a a Chromebook!
 If you came to this article from the DIY Wedding Montages page, click here to get back
---
Next level up
Okay, you've moved beyond the online editing platforms. You feel you've got more to say — or more to express — than these websites allow.
In order to progress to the next level, you'll need a bit more technology.
Offline video editing is a memory and internal processing hog, needing at least double the amount of RAM than the Asus Chromebook possesses.
And, it also needs to have its files close at hand — unlike the method used by the Chromebook whereby  every file and folder resides in the Google Cloud.
We've got the answer
Lenovo Z50 High Performance  Laptop Computer
15.6 inch Display — big enough but not too big
Quad-Core Intel processor –– enough processing power to avoid lag
AMD Radeon R7  with shared graphics memory — provides superior image quality

2.10 GHz — entry-level quad-core processor provides speedy real-time response
12GB DDR3 RAM — critical for multitasking and viewing full-motion video
1TB HDD — essential for storing massive video files 
Dolby audio — a big plus for monitoring your audio tracks
DVD+/-RW — not essential anymore, but handy if you want to play a movie
Windows 10 — now pretty much bug-free at last, it performs efficiently day to day
Plus a host of other near-necessities in today's technological environment: multiple USB ports, Bluetooth connectivity, an onboard high quality webcam — and still more features.
---
Becoming a Pro
Learning new technology is a daunting task if you're not a twenty-something anymore.
That generation, of course, has grown up in a digital age of wonders that allows anyone with the latest iPhone to capture video footage with the high-definition quality required by broadcast cameras in the not-so-distant past.
With the increased hardware's ability to edit will come the need for increased knowledge of — and possession of — offline editing software.
We're preparing a guide to the current suite of best editing software. In the meantime, check out the reasonably priced but full featured offline editor I use day in and day out — Cyberlink PowerDirector 16 Ultimate.
And, of course, to put that technology to full use, you'll need a laptop with the requisite horsepower needed to make it perform at peak capacity.
---
Now before you go off on me, pointing out that it's way over $700, hear me out. I only want to give the best possible counsel I can on how to make a good living doing what you love — video editing.
And to really do that well, you need the best. After all, even at double the $700 threshold we mentioned above, just sell 15 three-minute promotional or fund-raising videos at $99.95 each, as I do, and you will have paid for it.
Trust me, it's not that hard.
But back to the discussion of high-end editing laptops. This truly represents the state of the video editing art compressed into a go-anywhere laptop — so you can pursue your new career at the beach or at your ski lodge in Aspen.
You'll feel as though you are at a hockey game watching the large ultra high resolution 4K screen. A little over 15 inches diagonally, this display will let you see your finished video in startling clarity — broadcast quality, in fact.
Add to that its ability to be touched — as well as directed by a wireless mouse — and you've got the foundation for a fabulous editing experience.
A massive 16 GB of RAM will make sure your video never again buffers due to memory cramp. Multitask with abandon and have as many windows and tabs open as you like.
And the Nvidia GeForce GTX 950M graphics driver will display your creations as never before.
Here are the rest of this extraordinary laptop's features:
3840 x 2160 native resolution
16GB system memory for intense multitasking and gaming
Reams of high-bandwidth
DDR4 RAM
7th Gen Intel Core i7-7500U mobile processor
Ultra-low-voltage platform
Dual-core, four-way processing performance.
2TB hard drive and 512GB solid state drive (SSD) for a blend of storage space and speed
360° flip-and-fold design
Cloud support lets you access your files anywhere
NVIDIA GeForce GTX 950M graphics, driven by 2GB dedicated video memory
Built-in stereo speakers by Bang & Olufsen
ICEpower audio optimizes the sound
Bluetooth interface syncs with compatible devices
There's more
1 USB Type-C port
3 USB 3.0 ports maximize the latest high-speed devices
USB 3.0 ports is backward-compatible with USB 2.0 devices (at 2.0 speeds)
HDMI output expands your viewing options
Thunderbolt port for connecting advanced monitors and external drives. This single interface supports both high-speed data and high-def video
Built-in media reader for simple photo transfer
Supports SD, SDHC and SDXC memory card formats
Next-generation wireless connectivity, Connect to a Wireless-AC router for speed nearly 3x faster than Wireless-N
Backlit keyboard, Allows you to enjoy comfortable and accurate typing, even in dim lighting
Basic software package included, 1-month trial of Microsoft Office 365 Personal
Additional port, Headphone/microphone combo jack
Unfortunately, as you've noticed and as we discussed, this laptop comes in at considerably over the $700 price point. Nearly double, in fact. But its value more than justifies its cost, if you find yourself at this plateau in your video editing career.
---
Our other recommendations for best laptop for video editing under $600:
Dell Inspiron i5570 15.6″ Laptop 
2018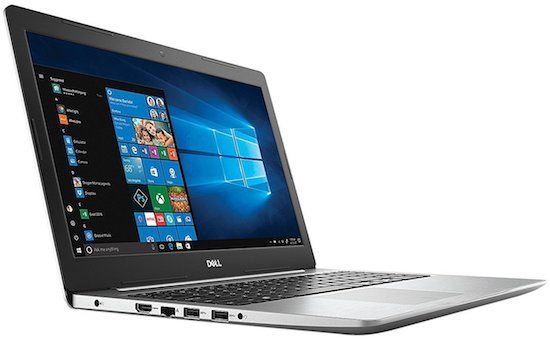 This laptop under $600 features
a 15.6 in Full HD IPS TrueLife LED-backlit touchscreen (1920 x 1080) display
10-finger multi-touch support;
Newest 8th gen Intel Quad Core i5-8250U processor with 6MB cache, up to 3.40 GHz;
8GB DDR4 2400 MHz memory;
1TB 5400 RPM hard drive;
 Windows 10 Home operating system: 64-bit;
Optical drive: DVD +/- RW;
Media drive: 3-in-1 media card reader (SD/SDHC/SDXC);
Audio: Waves MaxxAudio Pro; Video: Intel UHD Graphics 620 with shared graphics memory;
Ports: 1 USB 3.1 Type-C (with PowerDelivery) • 2 USB 3.1 Gen 1 • 1 USB 2.0 • 1 HDMI v1.4b •
Headphone output/Microphone input combo •
LAN (10/100/1000); Battery: 42WHr;
Camera: 720p HD webcam with integrated widescreen, plus dual digital microphone array;
Wireless: WIFI 802.11ac; Bluetooth: Bluetooth 4.2;
Dimensions: 14.96 x 10.15 x 0.89 in (380.00 x 258.00 x 22.70 mm); Weight: 4.85 lbs (2.20 kg);
Color: Silver or Matte Gray; Backlit keyboard • Precision touchpad • Security cable slot.
Lenovo Flex 4 80SA0003US 2-in-1 Laptop/Tablet 
This laptop under $600 features
The Lenovo FLEX 4, built with next-generation 6th Generation Intel Core I chipsets and Windows 10 Home, delivers the performance you need to succeed

The Lenovo FLEX 4 can be used 4 different ways – Laptop, Stand, Tent, and Tablet. Switch effortlessly between them as you tackle your to-do list and make the most of your downtime

The Lenovo FLEX 4 has plenty of hard disc storage (1TB) for your music, videos and photos

The Lenovo FLEX 4 presents pictures, presentations, movies and more in a stunning HD (1920×1080 resolution)

Easily switch between the touchscreen and keyboard/touchpad for optimum efficiency
2017 Business Flagship Dell Inspiron 15.6″ LED-Backlit Display Laptop
This laptop under $600 features
Brilliant 15.6 inch LED-Backlit TrueLife display Dell TrueLife displays deliver darker blacks and colors that pop for vivid graphics and video, perfect for games, movies, and photos. 15.6 inch HD LED-backlit display with Truelife (1366×768)

Powerful Intel Core i5 processor Faster than ever, the 7th Gen Intel Core i5 delivers striking visuals, extended battery life, and higher data transfer rates.

8GB DDR4 Memory for fast processing, 256GB SSD . DVD +/- RW, SD card reader, Waves MaxxAudio Pro, Intel RealSense 3D camera, Backlit keyboard;

Intel Graphics 620 Card delivers fantastic visual effects. 802.11ac/a/b/g/n (Miracast enabled) wireless; Bluetooth 4.0; 2 x USB 3.0, 1 x USB 2.0; HDMI 1.4; Headphone output/Microphone input combo • LAN (10/100)

Windows 10 Home, 64-bit, 4-cell lithium-ion battery, Gray
Lenovo 320S Business Laptop 
This laptop under $600 features
Watch, browse & more with HD clarity Enjoy crisp visuals while streaming movies or browsing photos online. The IdeaPad 320S offers HD resolution across a 14" display. And thanks to a new design that has dramatically slimmed two bezels around the screen, you'll enjoy edge-to-edge clarity.

Powerful performance Building on the streamlined simplicity of the 120S series, the IdeaPad 320S offers the boost of a 7th Gen Intel Core i processor and 8GB of DDR4 memory.

Ample storage for all your needs Download movies and music, build your photo collection and more. With 256GB of SSD storage, you'll have more than enough space for all the things you want to do, right at your fingertips.

Rich, warm sound with Dolby Audio Featuring two Harman speakers with Dolby Audio, the IdeaPad 320S offers advanced sound optimization for greater detail across a wide range of sounds.

Thin & light The IdeaPad 320S 14″ is stylishly sleek, and surprisingly portable. Whether you're working remotely or want to watch on the go, you'll never feel weighed down.
2018 Lenovo Business Flagship Laptop PC
This laptop under $600 features
Powerful 8th Generation Intel® Core™ i5-8250U mobile processor Smart quad-core, four-way processing performance for HD-quality computing.

Impressive 12GB DDR4 system memory for basic multitasking Adequate high-bandwidth RAM to smoothly run multiple applications and browser tabs all at once. 1TB hard drive for serviceable file storage space Holds your growing collection of digital photos, music and videos. 5400 rpm spindle speed for standard read/write times.

Stunning 15.6-inch resolution 1366×768 HD touchscreen for high-quality images and fine detail. Energy-efficient LED backlight. Intel® HD Graphics 620 On-processor graphics with shared video memory provide everyday image quality for Internet use, basic photo editing and casual gaming. Weighs 4.83 lbs. and measures 1″ thin

Bluetooth 4.0 interface syncs with compatible devices1 USB 3.0 port maximizes the latest high-speed devices

Windows 10 Operating System. 2 x 1.5W Speakers with Dolby Audio. HDMI output expands your viewing options Built-in media reader for simple photo transfer
Wrapping up
We've talked about much more than just the best video editing laptops in 2018 here today. But, hopefully, you found the discussion helpful and enlightening.
If you did (or didn't), please share your thoughts in the Comments section below.
And thanks for stopping by!